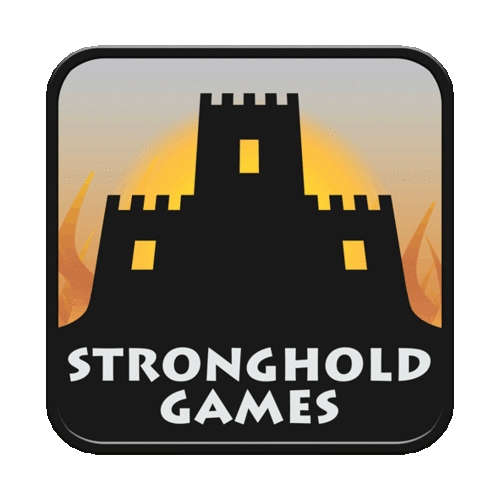 If you have ever listened to a board gaming podcast, you will have probebly have listen to President of Stronghold Games Mr Stephen Buonocore at some point. Why because he is a podcaster? No because he is a publisher of some awesome games and likes to talk about them... A LOT ;0)
Here is a little about him for the Stronghold games website:
Born and raised in New York and now from Somerset, NJ USA, Stephen had dreamed of entering the board game industry in some bigger fashion. A gamer since childhood (and there are many many years between then and now), Stephen has serious game geek cred, which includes playing RPGs since the late '70s, playing and running LARPS during the '90s and '00s, playing computer games and MMOs throughout the '80s, '90s, and '00s, playing CCGs from their inception through the early 00's, and finally diving deeply into designer board games during the '00s. He has also playtested games for several major publishers in the industry.
Stephen organizes several gaming groups, including very regularly scheduled small/medium-sized groups, as well as a very large group that could almost be called a "mini-convention". Stephen is mostly passionate about heavily thematic, American-style boardgames. Stephen's geekiness doesn't stop at gaming, however. Stephen is also a fan of Sci Fi and fantasy, and an avid beer brewer.
In late 2009, Stephen Buonocore and Kevin Nesbitt came together to discuss collaboration on a new board game publishing company. At the first meeting on October 25, 2009 in Atlantic City, NJ USA, a mission was established and plans were set in motion to start Stronghold Games.
The first publications by Stronghold Games in 2010, "Code 777″ and "Survive: Escape From Atlantis!" were extremely well-received, and these titles set the course for the company, showing the firm's ability to bring great, high-quality games to market on a consistent basis. "Survive!" was one of the best selling games in the hobby board game market in 1Q'2012, per ICV2.com, an industry watchdog site.
The 2011 release of "Confusion: Espionage and Deception" set a new high-water mark for quality components. "Confusion" was not only hailed for its amazing acrylic game pieces, but its fantastic game play has garnered this game awards from MTV-Geek ("Game of the Year") and Games Magazine ("Best Abstract of the Year").
In February 2012, Kevin Nesbitt left Stronghold Games. We wish him all the best in his future endeavors inside or outside of the game industry.
Stephen M. Buonocore is the President and Owner of Stronghold Games LLC.
Wednesday April 16th - 2pm (EST), 7pm (GMT) - is your chance to ask question of the man behind these great titles:
AND MANY MORE!
I promise you one thing with this #boardgamersask and that is, it will be entertaining!
Making #boardgamersask easier!
To make this live Twitter Q&A easier, I have made a room on Nurph.com which we can all use. All you have to do is make sure you are logged into Twitter then go to http://nurph.com/BoardGamersAsk/chats/256 and log in, using your Twitter account. You don't have to use this, everything will be the same as normal, but if you do us Nurph, it acts like a chat room for twitter and add the Hashtag automatically :0)
So What is #Boardgamersask?
#BoardGamersAsk is a live Twitter event, were you the board gaming community can ask questions of industry insiders.
So the big question is how does #BoardGamersAsk work?
It's simple, to take part in the live Q&A interview just be on twitter at the time and day listed below:
Wednesday 16th April - start times are:
11am in L.A,
2pm in New York, (Eastern Time)
7pm in UK,
8pm in Germany,
9pm in Finland,
To ask them a question just use hash-tag #BoardGamersAsk . To see what everyone else is asking or to see the answers being given by our guest just search for the same hashtag!
For one hour, #BoardGamersAsk is your chance to ask questions of the "people behind the meeples"
You can stay up to date with #boardgamersask just by following
@boardgamersask